What is a Plantation Shutter?
The term Plantation Shutters usually refers to the size of the louvers or slats of the shutter.
Traditionally much larger than Colonial Shutters, the louver sizes range from 2 ½" to 4 ½" in width.
Another characteristic is the thickness and width of the stiles and rails of the panel. The stiles, or vertical sides of the panel, are constructed to be more rigid. Depending on the manufacturer, the stile widths range from 2 to 2 ½ inches and the standard thickness is 1 1/8 inch.
Call 404-861-5323
For A Free Shutters Quote Today!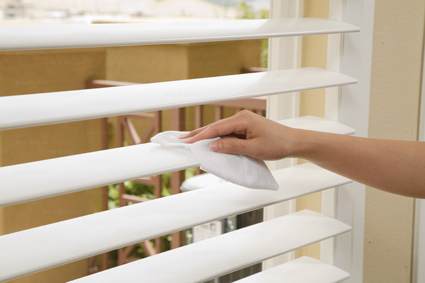 CONCEPT
The concept is simple, the larger construction allows for less obstruction to your view and more light in the room.
The thick rigid qualities of the Plantation Shutter gives the advantage of less panels, cleaner lines, and instead of having to move furniture every time you want to see outside, you have the ability to get all of your light and view by just tilting the large louvers up and down.
Sunburst Shutters carries the best plantation shutter brands at the best prices, whether you're in Cleveland, Columbus, Pittsburgh, Buffalo or anywhere in between. See our collection for yourself.
---
Products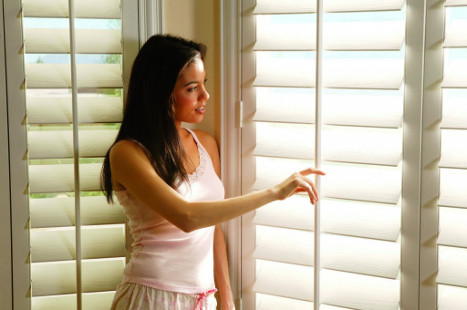 Polywood®
We are very proud to carry the Polywood® Shutter. Made by Polywood Fabrication in Wausau, Wisconsin and sold only through authorized Sunburst Shutters Premier Dealers like Sunburst Shutters of Cleveland.
Made in the U.S.A., Polywood® is Earth-friendly, made of 25% recycled materials and is a by-product of natural gas.
Our customers say "You can really feel the difference the Polywood® shutter makes on a hot summer day or a cold winter night."
Making it one of the only shutters on the market to be qualified for the 2016 Federal Energy Tax Credit. Some consumers have reported saving 10-20% less on their energy bills when installing the Polywood® shutter throughout their home.
---
FRAME STYLES

---
Introducing – The Craftsman Z-Frame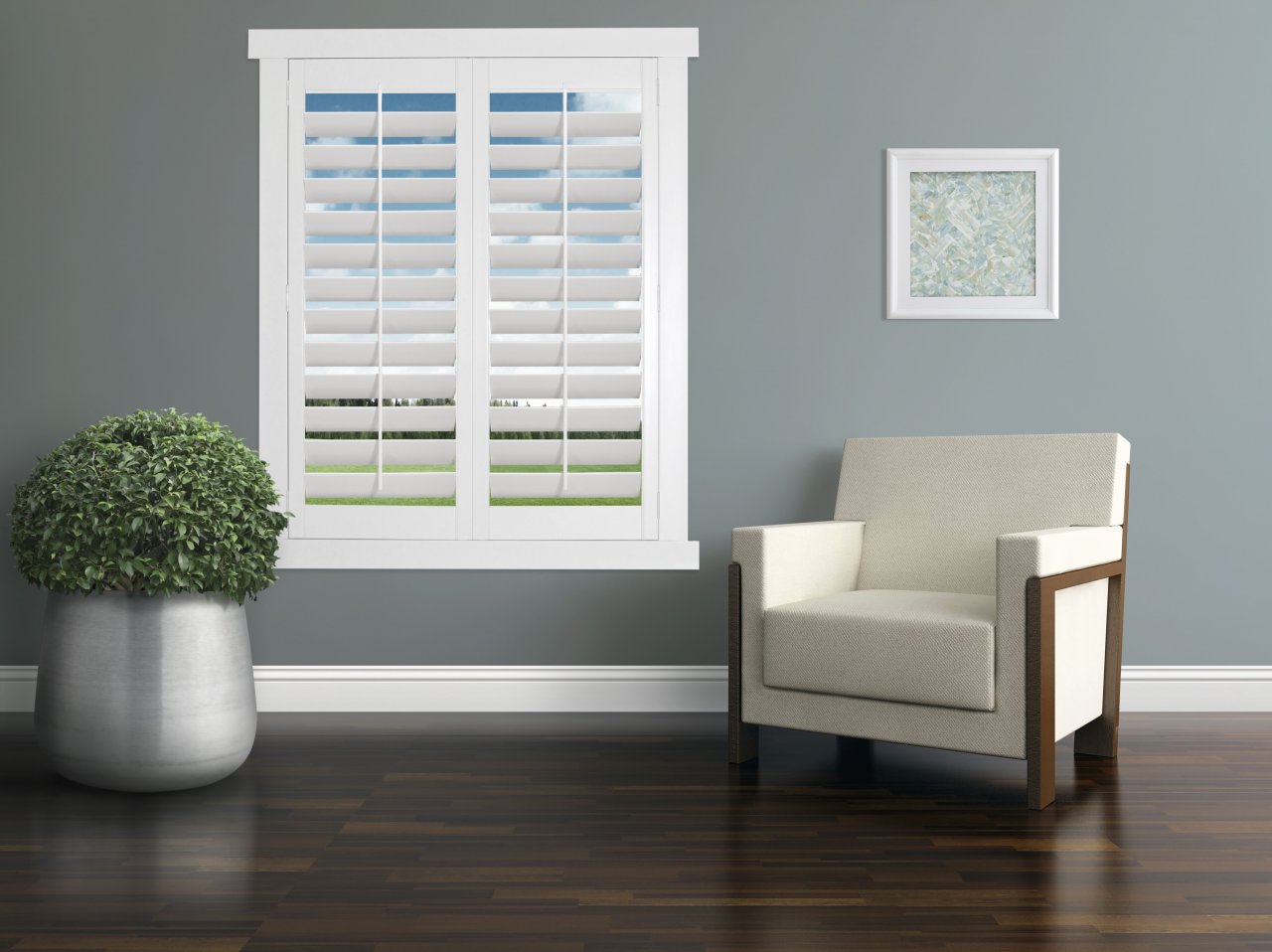 A unique blend of Vintage Character and Modern Sophistication.
Traditionally all shutters are mounted using a frame or hang-strip. Sunburst Shutters offers a very custom program and can mount without a frame when necessary. Hinge mounts and Extended Hinges are available.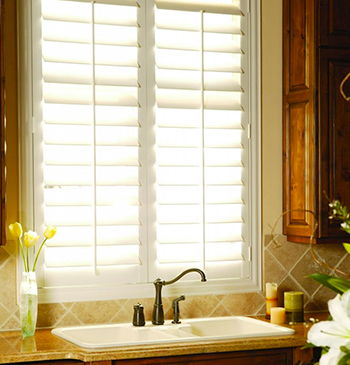 Polywood Plantation Shutters Over Kitchen sink.
Its solid construction makes it more durable than anyother shutter on the market. Polywood® is made from extruded cellulose PVC that is moisture, termite, and fire resistant. The Polywood® Shutter is backed by the best warranty in the business; a Lifetime Warranty against defects. No warping, cracking, yellowing or fading. Incredibly easy to clean and virtually no maintenance.
---
Studio
Looking for an economical shutter that still offers lasting beauty? The Studio Shutter is exactly what you need. The Studio offers superior quality in its class among entry-level shutters. Made from a unique solid synthetic material that offers both durability and beauty.
Available in 3 ½" louver and Bright White. The Studio Shutter is available in Rectangle Shapes.Trapani_Interiors_125_RT edited version_original
Monte Bello Plantation Window Shutters. Now, homeowners don't have to sacrifice quality when they purchase affordable shutters for their home. Studio is ideal for any home style or design.

Studio looks like wood shutters but It does not warp, crack, peel or split; making it a wise investment for any budget and any home.
---
REAL WOOD SHUTTERS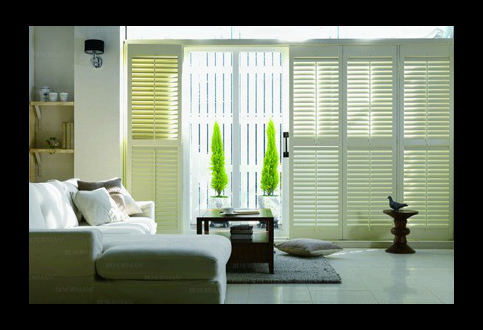 Real wood window plantation shutters.
This luxurious line of shutters is nothing short of exquisite.
Masterfully crafted from premium wood, and designed to beautifully complement any window or door in the most distinguished style.
Choose from a multitude of paints and stains to highlight and accentuate your windows.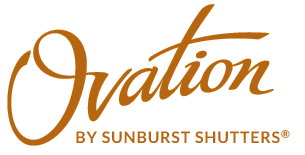 If that's not enough, use our custom color program to get that perfect finish to complete your décor.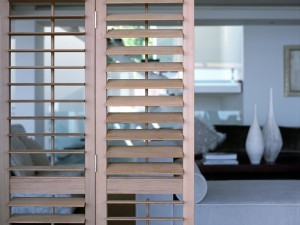 Quarter-cut window shutters Quarter-Sawn Wood Craftsmen have recognized that quartersawn wood results in a superior shutter product. Quarter-sawing yields fewer usable boards and takes much longer to dry. These boards are highly prized and well worth the effort and time it takes toproduce them.
Mortise and Tenon Joint Traditionally used in demanding furniture and building construction,mortise and tenon joints are designed towithstand the shear stress and racking forces applied when operating a shutter.
Reinforced Engineered Stile Multiple layers of wood are bonded together to bolster the stability of the core of the stile – making for a robust and hearty support system for your shutters.
PrescriptionWood Conditioning
Trademarked wood drying technique dries the wood to emulate the environmental conditions of the location where the shutter will be installed. This practice also reduces post-installation shrinking and swelling.
---

Decorative Frame Styles

Classic L-frames to 2″ and 3″ Deco Frames that add beauty to existing molding or, if you have bare drywall wrapped windows, allow these beautiful decorative frames to add dimension and sophistication to any room. 2 in. camber deco frame side 2 in. classic deco frame side 2 in. deco z-frame side beaded L-frame side3 in. deco z-frame side 3 in. ridge deco frame side bullnose tilt out z-frame side bullnose z-frame side vintage hang strip side vintage L-frame side
Louver Sizes Available: Stain Louver Sizes #2
1 1/4
1 7/8
2 1/2
3 1/2
4 1/2
BENEFITS
Hand-selected premium hardwood
Furniture quality finish
Specialty shapes & customization
Custom color for any décor
Personalize it with custom options, such as Optimal™ Antimicrobial Treatment, PerfectTilt® motorization and InvisibleTilt™ louver tilting mechanism.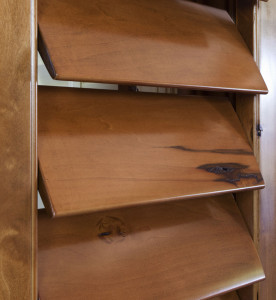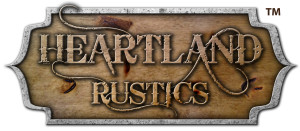 Rustic décor is as American as baseball, apple pie and lemonade.
Those who love the Rustic theme have always struggled when it came time to dress the windows … until now.
Meet Heartland Rustics. Made of 100% hand selected and knotty North American basswood and stained to perfection, Heartland Rustics are the ideal treatment for windows in ranch homes, log cabins or for those who just love to bring the outdoors indoor … in style.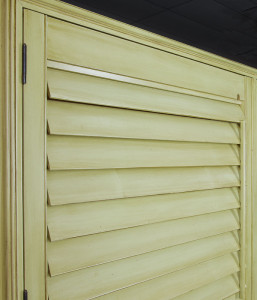 For those that love to surround themselves with the essence of the rustic farmhouse villas of the rolling Italian countryside or the warmth and peace of a Mediterranean garden home.
Each Venicci shutter is hand crafted of basswood and finished by our professional craftsmen with an antiqued glazed finish per your personal selection.
Accent your Venicci shutters with oil rubbed bronze or antique brass hinges.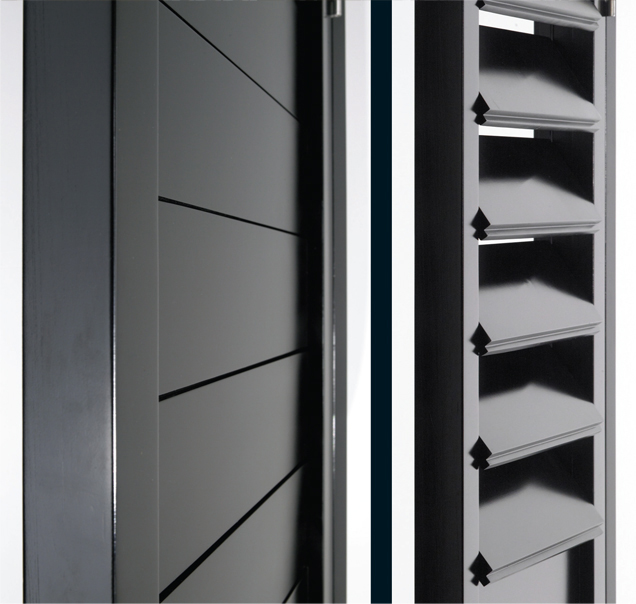 For those with the cosmopolitan taste of refined elegance, our Manhattan Series shutter is sure to satisfy even the highest demand for exquisite luxury.
Manhattan boasts a high gloss (gloss level up to 70%) coating that resembles the finish of a fine piano. Flat interlocking louvers provide complete closure for optimal light control and privacy.
Each Manhattan shutter comes standard with hidden tilt mechanisms for a glorious view when the louvers are in the open position. Solid 1 ¾" x 1 ¾" wood stiles ensure a durable shutter that will last a lifetime.
---
EcoSmart Engineered Wood Shutters / MDF Shutters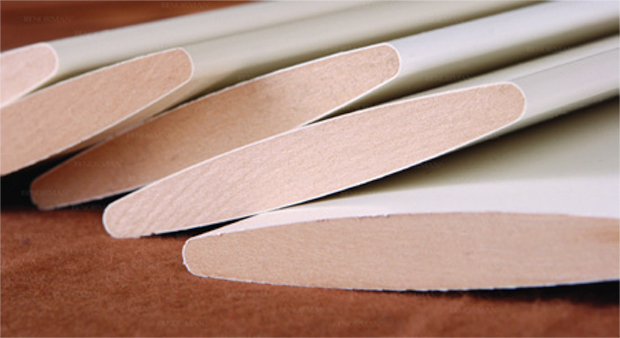 These shutters are constructed with a solid MDF core – real wood in an advanced state – for incredible density and strength.
Made from the wood of rapid-growth trees, these shutters enable tree replenishment at an extremely accelerated rate.
In addition, the added UV inhibitors in the finish do not release any volatile organic compound and protects against color fading and yellowing.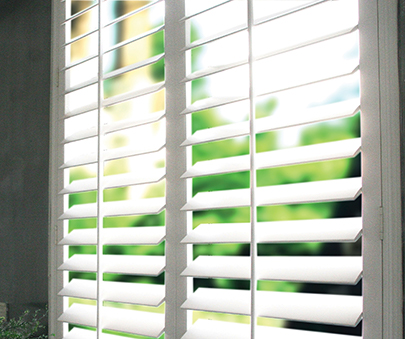 Patented polypropylene coating resists staining to ensure long-term performance in a variety of environments.
Better consistency and durability than a regular wood shutter
Reinforced engineered wood stiles provide an intense level of durability and structural integrity
Stainless steel staples resist corrosion and withstand extreme heat
Can withstand even the highest desert temperatures
Patented polypropylene coating makes its surface extremely durable and robust
Louver Sizes:
---